Sleepaway Camp (1983)
Bunks and the showers are a mad stabber's beat at a summer camp strictly for teens.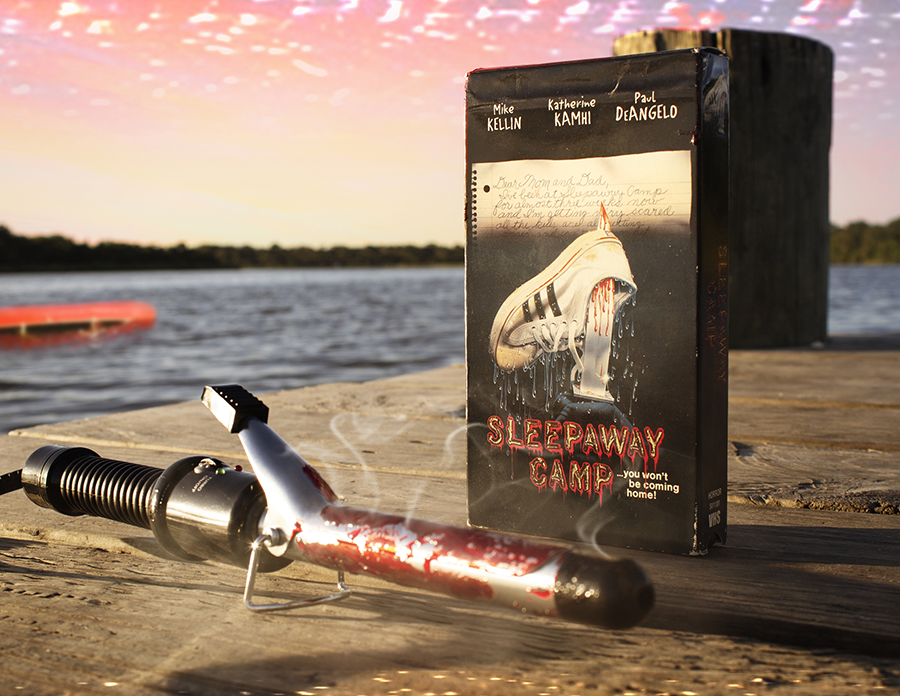 VHS release pictured: 2000, Anchor Bay Entertainment.
Starring: Felissa Rose, Jonathan Tiersten, Karen Fields | Director: Robert Hiltzik

Sleepaway Camp: VHS of the Month Review
by Sam Rakestraw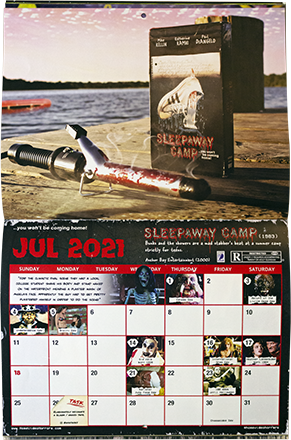 Oh god! I know what the hair curling iron was referencing now! And I thought discovering the meaning behind the disembodied eye from the May photo was spine chilling. Great photo pieces, Jacky. Last month I said we would be heading to camp after promenading the halls of Hamilton High, and here we are at Camp Arawak for the 1983 slasher Sleepaway Camp. One of the earliest seasons of Robot Chicken stated disbelief at anyone who remembered this movie. But honestly, how can they with an ending like that? Most will remember the story of Angela Baker and Camp Arawak, and for them, re-watching or revisiting it adds even more to the scare factor. They hear Edward Bilous' droning, piercing theme music and "Angela's" growling hums whenever they look at that drawn image of a bowie knife going through a shoe with a letter home in the background. You may even catch their face drop as they recall the visual.
That ending is what made Sleepaway Camp unique so it could stand out amongst a sea of slasher movies coming out on a monthly basis. We've only gone four years back from Mary Lou, and that means the golden age of the slasher genre was stronger than ever. By now, Friday the 13th had taken off as a series, Halloween would leave its mark until the fourth movie later, and Nightmare on Elm Street was on the way. My Bloody Valentine and Prom Night kept audiences talking too. So, the influences that Robert Hiltzik had were plenty. Overnight camp was not a new setting for the genre so he inevitably ended up with an atmosphere like the first Friday the 13th. However, it focuses more on the campers than the counselors. You've got to think that camp would be scarier for them if something went wrong. So far away from home with only letters to contact the family with while the inattentive counselors are usually local teens looking for a fun summer at a lake. Not to mention, it's out in the middle of the woods miles from a town. It'd be super easy to imagine things that go bump in the night or other dangers.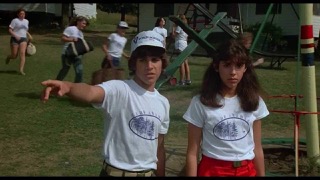 Like most slasher tales, Sleepaway Camp begins with an untimely death in the family. Angela Baker (Felissa Rose) was a victim of a boating tragedy that appeared to take the lives of her father and brother. The usual suspects of that day and age are responsible -reckless camp counselors. I swear during this time, counselors at overnight camps everywhere were watching their bags. At least these kinds of movies don't have the same effect as shark movies where people were scared off of being camp counselors like going into the water. Thankfully, the camp business never took a serious hit. The Bakers weren't a typical nuclear family. It was John and his partner, Lenny, raising Angela and Peter. I wonder what happened to Lenny since his character was never referred to again.
Angela is quiet. She is really quiet. It's good thinking, can't be bad socially if you don't participate socially. She has lived with her aunt Martha (Desiree Gould) and cousin Ricky (Jonathan Tiersten). Martha is pretty eccentric with Gould's unnervingly over-the-top performance -like the character was keeping secrets and leaving breadcrumbs. She sends the two to Camp Arawak for the summer. It's a camp for teens, and I have to say, a lot of the actors look the part. They actually had young people play young people. Angela's cabinmates Meg (Katherine Kamhi) and Judy (Karen Fields) really don't like being given the silent treatment and are unnecessarily cruel to her and the others are either douchy Chads in short clothes or quick-to-judge Julies. You got to love Ricky coming to his cousin's rescue and being a little firecracker to these guys being jerks that are thrice his size. Artie the cook (Owen Hughes) should not be within 200 yards of a kid and the owner, Mel Costic (Mike Kellin) is oblivious to anything happening at his camp. At least, Angela is able to find some support from counselors Susie (Susan Glaze) and Ronnie (Paul DeAngelo) and even spark something with a chap, Paul (Christopher Collet). But we're here for a killer and a whodunit, and that's what we get when Artie turns up burned in the kitchen followed by a series of camper deaths.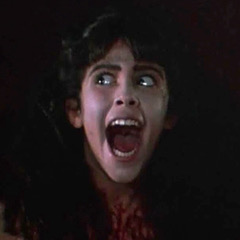 In addition to having a young cast, Sleepaway Camp was the film debut for a lot of its cast members including Felissa Rose. There were also some veteran actors in the industry. Mike Kellin had been acting since the early 50s. After serving in the war, he had taken up acting at Yale and amassed some movie and television credits. This was his last film role until his death the year it was released. Playing Ben, a camp kitchen staff is Robert Earl Jones -the father of James Earl Jones. Trailblazing must run in the family as the older Jones helped shift the spotlight onto Black actors as early as the 30s. He has even collaborated with Langston Hughes. In that regard, the cast of Sleepaway Camp is so generationally diverse. It shows too since there are so many different styles of acting if you think about it.
Sleepaway Camp was filmed at a real camp, actually. When Hiltzik was a kid, he would go to Camp Algonquin in Argyle, New York over the summer in Washington County. Summit Lake, where the camp was once located, still sees boaters, swimmers, and fishermen visits during the summer and fall. I've only been to sleepaway camp once when I was a kid and having the ability to make a scary or spooky movie there sounds extremely appealing. I'd love to film all my favorite places during the day scenes and highlight what made me afraid at night. While I was at that quaint all-boys camp in Wisconsin some chuckleheads would roam the cabin grounds at night in blank, pale masks the juniors decorate in arts and crafts. Everyone has been scared at overnight camp at some point. Hiltzik and the crew of American Eagle Films shot on a budget of $350,000 over five weeks. They had more scenes storyboarded but were running behind schedule. It was a race against nature too since Hiltzik wanted to film during summer when all the trees and plants were in bloom. The delayed filming managed to take place from September to October. It shows just barely in some scenes as leaves are shed from their branches.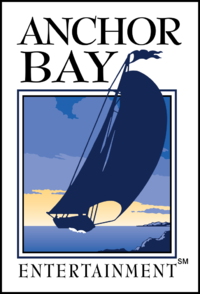 With an ending like Sleepaway Camp's, audiences that saw during its theatrical run were sure to tell their friends and then go see it with them. In terms of twist endings, Sleepaway Camp is up there with Darth Vader revealing himself as Luke's father and Norman Bates being psycho. Despite a limited release, Sleepaway Camp managed to gross $11 million. Further success would be found in the home media releases. This month we have the 2000 release by Anchor Bay Entertainment. At the same time, they would release DVDs too along with a special camp survival collector's edition set. But we're here to talk about the VHS release. Truthfully, we already have in last month's review. Anchor Bay Entertainment is the merging of Video Treasures and Starmaker Entertainment in 1995. Video Treasures released last month's movie, Prom Night II. In a way, we have another Video Treasure release since it's technically the same company. Sleepaway Camp actually has previous releases on Video Treasures before the merger. The plot thickens when Anchor Bay was purchased by Starz in 2006, which was then purchased by Lionsgate which released May. All these video companies are connected in some ways.
The legacy of Sleepaway Camp couldn't have been without Felissa Rose. Throughout her acting career, she has always embraced the role. It's every slasher fans' dream to have a picture with her at a convention while she does Angela's open mouth, wide-eyed climatic expression. You know, the one they made a mold of and smacked on then-college student Archie Liberace to stand nude in at the end of the movie. He had a point if your junk was going to be theatrically released and you're getting paid for it might as well have a drink or four. Whatever he was getting a degree in, I hope he's doing good things today. Rose meanwhile has made regular appearances in horror movies with the most recent one being the latest Hatchet movie and she also has producer credits on Slayer music videos. As of now, she is producing a documentary about the making of the movie. Sleepaway Camp would get some sequels over the years. But Rose would only reprise her role in the most recent 2003 one and only for a short time. Again, the main point of Sleepaway Camp was the inclusion of campers in a narrative like Friday the 13th. So Angela's true identity is never a plot-driven point in Sleepaway Camp II, III, and Return to. If there's ever future films, I hope it's addressed or explored more.