Girlfriend From Hell (1989)
The inventor of the condom-- now God's bounty hunter- is tasked with tracking down and capturing the Devil, who has possessed the body of a high school wallflower in order to feed on human souls via sex.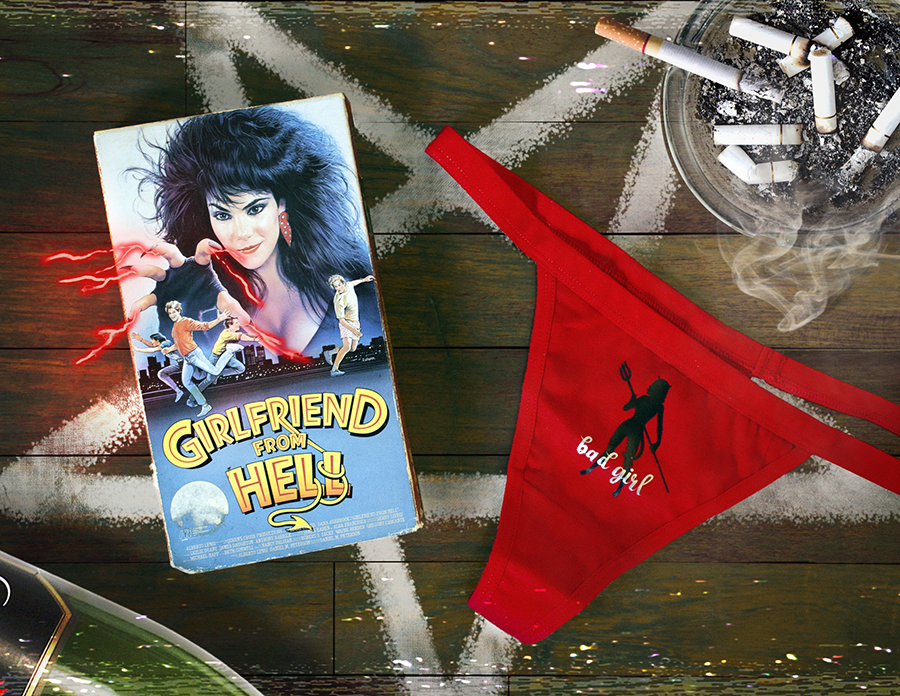 VHS release pictured: 1990, IVE.
Starring: Liane Curtis, Dana Ashbrook, Lezlie Deane | Director: Daniel Peterson

Girlfriend From Hell: VHS of the Month Review
by Sam Rakestraw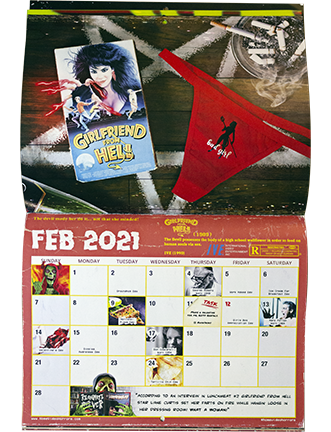 The video store served more of a purpose than just your tape dealer and lender. For a lot of independent production companies it was where the general public would be able to see their films that didn't get a mainstream theatrical release. When a direct to video classic was released, then the VHS was the film reel, the tape player would be the projector with your T.V. as the screen, and your home as the theater. However, these movies wouldn't be the big budget A-list features they played at the ritzy theaters. These were B-list, independent productions now known affectionally as "cult films." Movie big wigs tend to see this as pejorative and low class. But if this month's flick, Girlfriend from Hell taught me anything, it's that simplistic ideas and execution can go the distance.
Home Video Horrors brought the Valentine's Day iconography to life with this direct to video release from 1990 written and directed by Daniel M. Peterson. Maggie (Liane Curtis), despite being the titular character, is no one's girlfriend. In fact, she's passed in every subject in high school except socializing. However, she's got a supportive (granted, horned up) group of friends ready to help her to come out of her shell with a small house party. At the same time, there's a Heavenly chase involving the Devil herself (that's right, it's a she) and someone known as Chaser (Dana Ashebrook, prior to breaking out in Twin Peaks) that escalates from the cosmos and onto Earth. The Devil takes possession of Maggie and from there, it's a comedic horror ride where only those who resist temptation can survive. The succubus feeds on the souls through sex, quite literally sucking the soul from them.
Almost immediately, we get some Garth Ennis-Preacher vibes with the introduction of Chaser and the Devil in the beginning. Chaser doesn't dress in the traditional white robe you'd see an angelic being in, carries around a flask (probably because his job as God's bounty hunter sucks), and all his powers come from technology from the Heavenly world. What's more the afterlife seems more mundane than mystical. He and the Devil are also a bit too casual on their feud that has been spanning thousands of years. Maggie's friends-Diane (Lezlie Deane), Carl (Anthony Barrile), David (James Daughton), Freda (Sarah Katie Coughlan), and Ted (Brad Zutaut) are thrown into the fight for their lives when they realize they are partying with Beelzebub.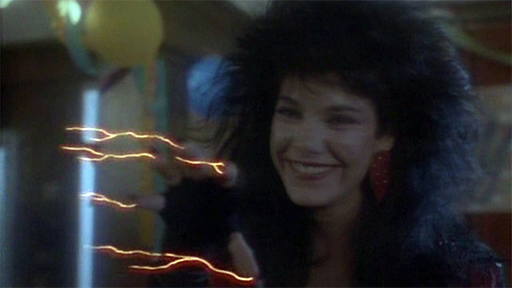 Hats off to Liane Curtis for essentially playing two characters-the thumb twiddling Maggie to the hell-raising Devil. When Lunchmeat interviewed her for their seventh issue, she discussed how she would rip fire farts in her dressing room. Whether or not she was doing this to get in character or just to pass the time remains a hilarious mystery. She could stumble over words as Maggie, but when she becomes possessed it's time to run over nuns with a car, bring people's meals in restaurants to life, and reduce everyone to a decaying mess of flesh and bone via sex. Her costars also do a fun job of portraying and lampooning stock characters from the 80s teen, horror movie genre that had been done so much over the last ten years.
Dana Ashebrook compliments the irreverent villain of the She-Devil with an equally irreverent hero role as Chaser. Prior to becoming an angelic bounty hunter, he had made some choices in life that wound him up in Purgatory. He would go one to create the condom and eventually falling for the Devil. At risk of spoiling, I will only say that Maggie isn't the titular "girlfriend from Hell," the Devil literally is. That's right. Beneath all the silliness, Girlfriend from Hell is a story about love, relationship perseverance, and even forgiveness. That's what makes it such a great movie for Valentine's Day.
That, and it's just plain fun to watch. Girlfriend from Hell came out around that time when America was moving on from the hair metal of the 80s to the grunge rock of the 90s. Maggie's wardrobe is a homage and parody of the big hair bands from the Regan era. The film's soundtrack is especially rocking in that sense. The titular song either draws you in or takes you back with the rock guitar chords.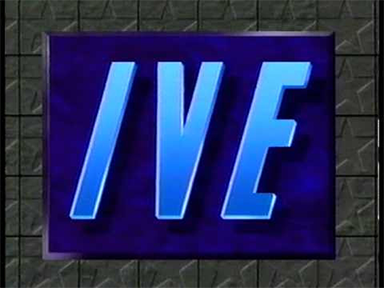 Girlfriend from Hell received their home video release courtesy of International Video Entertainment (IVE). The tape also comes with previews for Happy Together with Patrick Dempsey and Helen Slater, Dean Koontz's Watchers II, and a Regan-era drug free America PSA (don't jump into a pool with no water, kids). IVE was founded in 1983 and until being purchased by Lions Gate in 2003, they were one of the largest mini-major film studios. They competed with the likes of Castle Rock Entertainment, Orion Pictures, and even TriStar Pictures. IVE, for a time, was also more widely known as Artisan Entertainment in later years before folding in 2004. The film, prior to its release, premiered at the Houston Film Festival of 1989.
Today, the intellectual property of Girlfriend from Hell has been adapted into a musical. Not a contemporary one, but a live B-movie of the 80s on stage. It's been described to be a mix of Faust and Carrie with a blend of Weird Science, Evil Dead, and Earth Girls are Easy. The first production was in 2011 when Sean Matthew Whiteford (Rock of Ages) wrote and kickstarted the musical for a one week run in NYC. Since then, there's been numerous workshops, cast recordings, and shows. The website for the production has just gone up, in fact.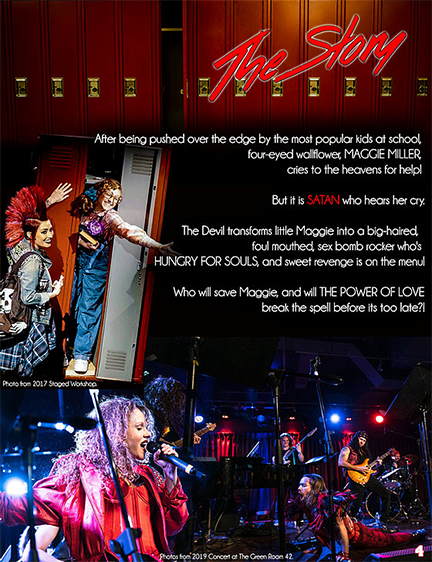 That just goes to show how a silly or simple idea, like a girlfriend from hell, can go the distance. While Girlfriend from Hell doesn't stand the test of time, it works far better as a product of its time. That is what makes it so unique.