Don't Go In The House (1979)
A disturbed young man who was burned as a child by his sadistic mother stalks women with a flamethrower.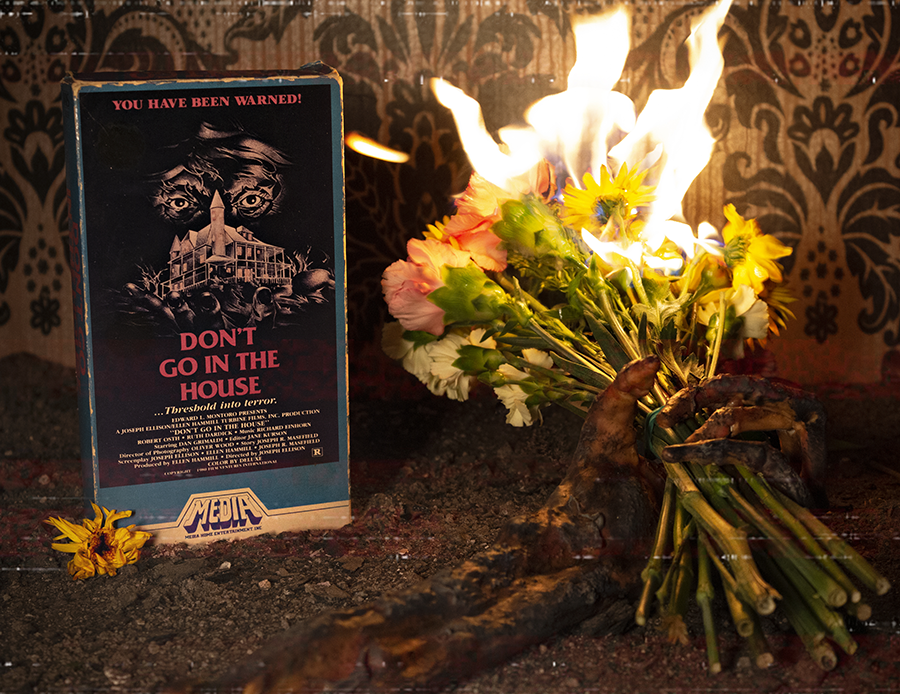 VHS release pictured: 1982 Media Home Entertainment.
Starring: Dan Grimaldi, Charles Bonet, Ellen Hammill | Director: Joseph Ellison

Don't Go In The House: VHS Review
by Sam Rakestraw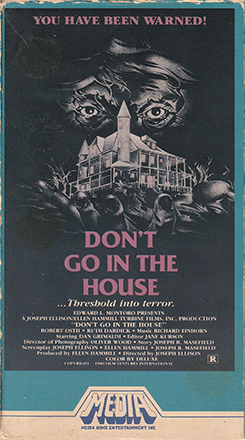 From afar in the aisles of the video store, Don't Go In The House seems like another slasher movie. But instead of a knife or any of the like, the murder weapon is obviously fire. Everything lines us for it. The setting is an old dark house, the victims are advertised as young women, and it's obvious there's a killer pyromaniac about. Prepare to be surprised, Don't Go In The House is actually a fully-fledged psychological tale of terror. May meets Firestarter meets Maniac in the story of Donny Kohler (Dan Grimaldi), his obsession with fire, and his desire to punish what he deems as evil.
Donny's fire obsession goes back to his childhood when his mother (Ruth Dardick) would use the stove to punish him. For what exactly is never shown or even specifically mentioned, but whatever it is, she's convinced it's evil. Or realistically, she is just absolutely crazy. Even Donny's father couldn't put up with her. He seems to have spent all of his early adult life with her and have a Stockholm syndrome-like relationship in every sense of the meaning. But Donny's luck begins to turn around, even if he doesn't admit it at first when he comes home from his smelter's job to find her dead in their honestly impressive house. He's not completely alone, he quite literally had voices in his head that claim to help him and while what his mother had done was cruel, it was necessary. He also hears and sees what also could be heard around the house.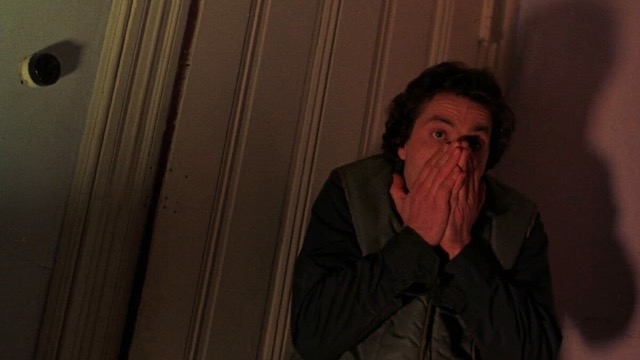 Carefree, young women must be evil because that's all Donny seems to target when he's not having a mental episode alone in his house. Women that are in his life like the local florist Kathy (Johanna Brushay) and just those unlikely enough to be in the area become his new housemates as shrunken burnt corpses. As his household grows, so does Donny's doubt in himself and others as it's his very sanity that burns away. His coworker Bobby (Robert Osth) begins to worry when he stops coming to work together and local priest Father Gerritty (Ralph D. Bowman) gets a visit from Donny down the line and tries to help before getting involved.
There's some more that happens as the two try to help Donny. But the entire time, he is hearing the voices, of his mother, and erupting into monologues about his past or scolding his "guests." For these moments, it really does feel like you are taking a step into Donny's world and less of the world we live in, and it all comes back to that freaking house. That's psychological horror done right. While he doesn't use the flamethrower on camera a whole lot, it makes it count when he does. Sometimes it doesn't even feel like the story of a man going crazy but rather an already crazy man trying to exist in a sane world, kind of like The Shining –the movie that is.
Television actor Dan Grimaldi made his acting debut in this flick, and he has no choice but to carry it –and he does. There are some scenes that play out like a one-man show with just him and his victims being the only characters. Given their condition, they're not speaking –but not to Donny. In his mind, he's hosting a full house and he has to play the part. His initial reaction when he finds his mother dead says a lot about his character. Perhaps he isn't even an adult mentally, maybe he never grew up in that way. Again, that's some good psychological horror, when you can make your own theories. Grimaldi still had a way to go in his acting caliber, it's always fascinating to see his humble beginnings before hitting it big with The Sopranos and Law & Order.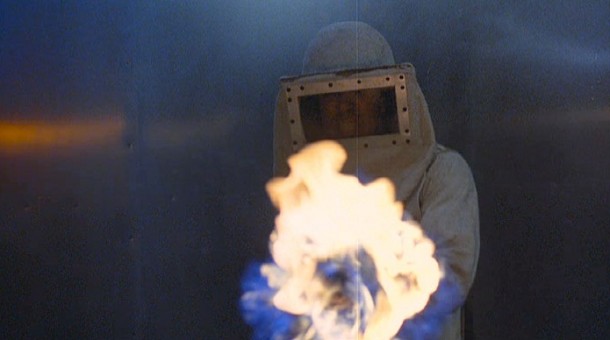 Fire kills aren't the goriest one could choreograph and film. Still, that didn't stop Don't Go In The House from getting the highest honor of "video nasty" being bestowed upon it. The abuse Donny suffers as a child and the first kill scene don't linger on details but rather draw themselves out. For the unfamiliar, a video nasty is a film that was heavily edited or banned altogether upon release in the United Kingdom. Several are proudly celebrated on this site. In the case of Don't Go In The House, a total of three minutes was cut when it was released on video in the UK. However, legend has it that an English video label called Arcade released the uncut version not long after which became a massive collector's item for tapeheads.
Director Joseph Ellison is a musician and sound man more than a director it would seem with Don't Go In The House being his first of two projects. It was an interesting first direction to go as Ellison tells of a largely uneventful and even happy childhood free from any real trauma. Perhaps he wanted to explore a new topic in a unique way. He also impressively filmed on location in New Jersey's historic Strauss Mansion in Atlantic Highlands. While the mansion is now a historic attraction run by the local historical society, it was really just an old dark house back then ripe for a ghost haunting for anyone who wished to rent it. Even though Ellison didn't do the music, Richard Einhorn, whose similar blaring chords would appear in Blood Rage does. Ellison's second and only other movie would be 1986's Joey about a young, aspiring musician which is a story that hits close to home for him.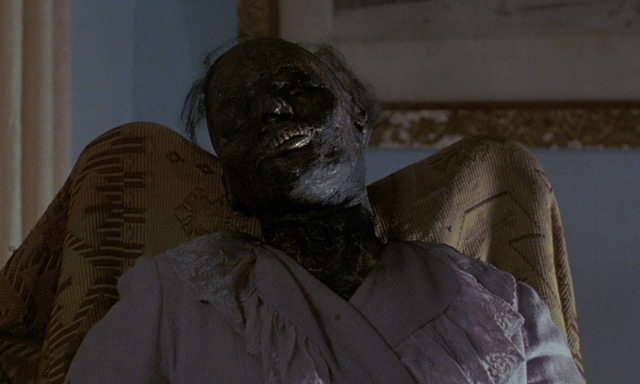 Don't Go In The House is unique because it's the absolute last thing you would expect to be character-driven even in the slightest. It's always interesting such mentally focused movies around the time when stabbing and screaming were everything, especially with the lower-quality cameras. It's still remembered to this day because of the first death scene even if it does seem underwhelming for most. Donny Kohler is up there with Frank Zito in terms of being an underestimated, extremely low-budget serial killer protagonist. The movie as a whole is one of the few on this site that lives on through a recent Blu-Ray release by Arrow within the last couple of years.